We have been visiting Fairhope, Alabama for years. We usually stay in the Hampton Inn right in the middle of town because we love being able to walk out of the hotel and be right in the middle of everything…so different than where we live, where you have to drive to go anywhere.
We arrived in the middle of the afternoon, checked in, then headed out to walk around town, looking. Eating out in Fairhope means enjoying locally owned restaurants, and this year was a repeat visit to an Irish pub called McCleary's.
There are a lot of cute shops in Fairhope, but my favorite is The Copper Column. It is a mix of repurposed art, paintings, fabric, stacked up wood, shells, and other treasures. We bought a couple of metal chairs from there a few years ago to go in our potting pergola area at home.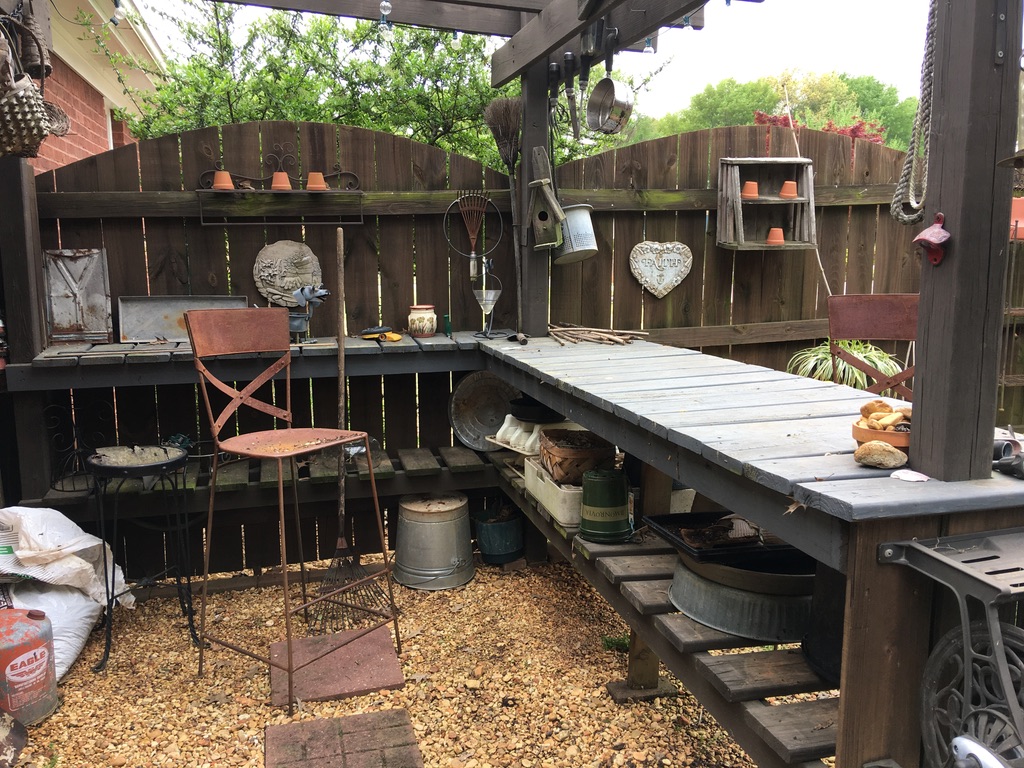 That evening we walked out on the pier, and watched the sunset, a lovely tradition of ours. There were quite a few people, but noticably absent were the pelicans who are usually hanging around, begging for fish from people who are set up to fish at the end of the pier. Not sure why they were not around, maybe they were social distancing. Who knows.
Early next morning, I was walking with Erin (my daughter) and her friend and we saw a scraggly old dog walking up the sidewalk ahead of us. Further up the street was an older gentleman walking with a cane. I knew they must be together. We caught up with them at the next corner, and I noticed the man had paint splashed all over his sandals. Not just small drips of paint, but a lot of paint. We exchanged pleasantries, and learned that his dog's name is Biscuit. As he turned to walk away, I saw that he had Nall written on the back of his shirt. I knew who he had to be. So I did what my mom would have done, I asked him, "Are you an artist?" He turned back and smiled, "Yes." I bluntly asked, "Are you Nall?" He smiled a bit wider, "Yes." Trying not to act like a giddy teenager, I managed to tone down my enthusiasm to conversational tone, and say, "I am a huge fan of yours…" and some other things. I don't remember what. I do know, I did NOT say, "OMG, I LOVE YOUR WORK, YOU ARE SO AWESOME, I CAN'T BELIEVE I'M TALKING TO NALL-OMG!!!!!!!!!!!!" But that's what I was thinking.
If you don't know his work, PLEASE visit this link:
I didn't even think to get his autograph. I should have…but I was a little flustered. Anyway, I MET NALL!!!! And Biscuit.